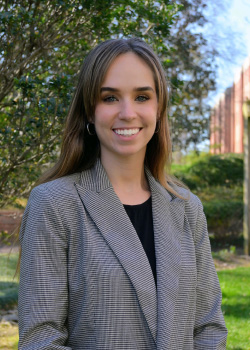 Isabella is from Portland, Oregon, which she credits for invoking her love of the natural world. She received her BS in Biology with an emphasis in Zoology from San Diego State University in 2020. Currently, she is a Genetics Ph.D. candidate focused on the use of genetic and genomic tools in wildlife health and conservation assessments. Since enrolling at NC State, Isabella has worked on projects with California sea lions, Galapagos sea lions, and American black bears. She hopes to work with as many species as possible. In her free time Isabella enjoys playing with her bearded dragon Hades, labradoodle Tucker, and Maine Coon Harvey.
GG Scholar Spotlight: Isabella Livingston
Congratulations to Isabella for passing her PhD prelims (October 2023)
Congratulations to Isabella for receiving the following awards.
CVM Research Forum – Top Honor (2023)

Genetics and Genomics Academy Henry E. Schaffer Teaching Award Recipient (2023)

NCSU Genetics and Genomics Academy Travel Award (2023)

NCSU GAANN Fellowship (2023 -2024)

Genetics and Genomics Academy Flash Talk Competition (2022) – Second place recipient